This year I had the good fortune to make a fanmix for

imagined_heaven
's really charming Star Trek Big Bang story
"Epistrophe sta asteria"
.
It was a lovely story to read and a fun mix to make, so I hope you enjoy!
You can download it here.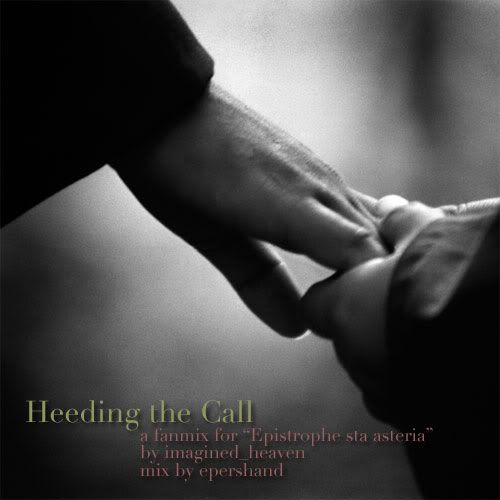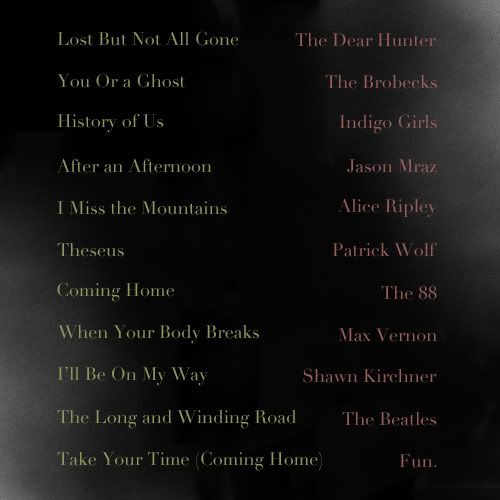 1. Lost But Not All Gone - The Dear Hunter
Here I lie
The same I fell at first.
Give me anything but apathy or love and curse.
Waiting for my soul
To wake and come alive again.

2. You Or a Ghost - The Brobecks
Well I got a photograph,
In a box inside my room.
With pieces left of you,
Beside my bed.

3. History of Us - Indigo Girls
I went all across the continent to relieve this restless love
I walked through the ruins, icons of glory
Smashed by the bombs from above

4. After an Afternoon - Jason Mraz
I bare my windowed self untamed and untrained
Dreams that hardly touch our complexions truest faults
If room enough for both my drowsy spirit shall fall
Bold waves tumble oh to the season of my heart

5. I Miss the Mountains - Alice Ripley
All these blank and tranquil years
Seems they've dried up all my tears
And while she runs free and fast
Seems my wild days are past

6. Theseus - Patrick Wolf
the warm thread of love leads you to freedom
once the hero's deed is done

7. Coming Home - The 88
Because you need a place to stay
And I've been feeling dead since you went away
You better believe what I tell you cuz you're coming home

8. When Your Body Breaks - Max Vernon
You've got better things to do than standing there with baited breath,
watching the world pass by in front of you
wondering if you'll get what's left

9. I'll Be On My Way - Shawn Kirchner
When I am gone, please forgive the wrongs
That I might have done to you;
There'll be no room for regrets up there,
High above, way beyond the blue.

10. The Long and Winding Road - The Beatles
You left me standing here a long long time ago
Don't leave me here, lead me to your door.
11. Take Your Time (Coming Home) - Fun.
So come on with me, sing along with me,
Let the wind catch your feet.
If you love somebody,
you'd better let them know.